HealthyWage Review – Get Paid To Lose Weight, Really?
HealthyWage Review – Can you really place bets on weight loss and make money?
Can you actially get paid to lose weight?
It sounds too good to be true, right? Well, it's actually a real thing. One startup called HealthyWage is making 'getting paid to get fit' a reality.
…And they have already paid out more than $10 million to dieters on their app.
As an affiliate partner of various brands and sponsored content, we may earn commission on qualifying purchases. Disclaimer | Advertise With Us
Now that I have your attention, let's investigate how making money by placing bets on weight loss is even possible.
How To Get Paid To Lose Weight With HealthyWage
When I started researching for this HealthyWage review at first I was thinking "Get paid to lose weight…sure…I smell a scam…"
But then when I looked into it, I soon realized that there is no scamming involved, how HealthyWage works is actually completely legit, and makes a lot of sense.
Everyone knows that losing weight can be hard. We also know that money is the ultimate incentive to do, well anything!
So that is the idea behind the HealthyWage app. You use your own money to place bets on weight loss (as in, how much weight you intend to lose), and HealthyWage ups the anty with challenges and money incentives to help you meet your goals.
The only way you could lose money is if you fail to reach the goal that you personally set for yourself.
Basically, with weight loss betting at HealthyWage, you can make money losing weight or risk losing your money by not reaching your goal.
And that is what will motivate you to succeed – fear of losing your own money.
…Pretty smart, in my opinion!
Anyone who has been successful in losing weight will tell you that weight loss takes a mental mind shift paired with sheer determination and perseverance.
You need to force yourself to stay motivated, especially when it gets really hard (because it does).
But to really stay motivated, there has to be something that keeps you on track.
Something more than just the desire to look and feel good.
So what motivates you? If you are like most people, you are motivated by money.
That's how HealthyWage has helped so many people get fit – by placing your own personal bets and challenges on your weight loss.
HealthyWage $45 Bonus
Sign up to get paid to lose weight before June 24th, and HealthyWage will give you a $45 prize boost bonus!
[su_button url="https://herpaperroute.com/healthywage" target="blank" style="flat" background="#FF7E78″ size="7″ center="yes" radius="0″ text_shadow="0px 0px 0px #ffffff" rel="nofollow"]CLAIM BONUS »[/su_button]
Making Money For Every Pound You Lose
So what better thing to keep you focused on your weight loss goals than the added fact that for every pound you lose, with HealthyWage, you are getting closer to gaining more money?
What Is HealthyWage
HealthyWage uses cash prizes to make losing weight, exercising and reaching weight loss goals more fun and effective.
HealthyWage was founded in 2009 in response to the academic research at Harvard, Carnegie Mellon University and the University of Pennsylvania which suggests that there is a connection between incentives and weight loss.
Even small cash rewards can increase the effectiveness of weight loss and step programs. People are more effective at losing weight and getting more active when their own money is at risk.
Our continuing mission is to bring the results of academic and industry research to real world people. – HealthyWage
How do you place bets on weight loss?
Within the free HealthyWage app, you can place a personalized bet on how much weight you want to lose, and be in the running to win prizes of up to $10,000.
Related: A workout plan app you will actually use, and love
How To Get Paid To Lose Weight With HealthyWage
HealthyWage provides customized challenges for you privately, or you can do it with a team.
Simply sign up for a free account and place your own bet on what you intend to lose and when.
You decide how much you want to lose and how much you want to bet. If you meet your goal, you win more money than you bet.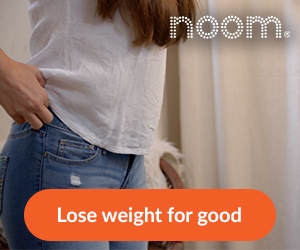 And if you don't meet your goal, you lose the money you bet. See how a weight loss challenge like this can work to motivate someone?
HealthyWage says that they have paid more than $10 million rewarding dieters for reaching their weight-loss goals.
Check Out Some Of The Recent HealthyWage Winners
These HealthyWage members got paid to lose weight: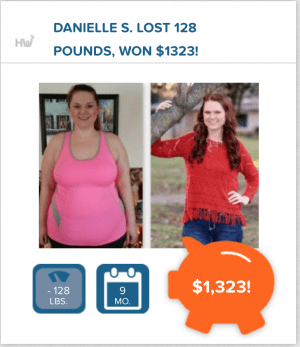 How To Get Paid To Lose Weight With HealthyWage
If you are curious about how much or little is needed to place a weight loss bet, this will show you.
Enter your desired weight loss goal in the HealthyWage calculator to see how much money you could stand to win.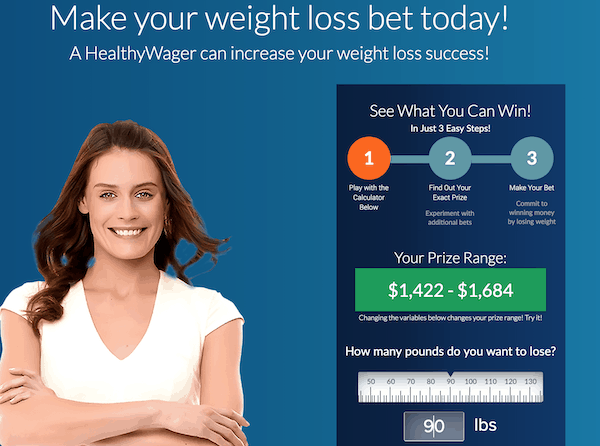 Money Is The Ultimate #FitSpo
Make this year the year you finally get fit and healthy. Use the motivation of your getting paid to lose weight as the 'carrot' on the end of the stick that keeps you focused on reaching your weight loss goals.
You can do this! All you need to do is believe in yourself and start.
More Ways To Lose Weight
We reviewed Noom, a weight loss workout plan app helps improve your mindset around weight, as well as gives you helpful tips on meal planning and exercise. You also get a personal lifestyle coach, as a member!
HealthyWage Review – Conclusion
I hope you found this HealthyWage review helpful. If you liked it, please share it around!
Will you be signing up to HealthyWage? Let me know in the comments so I can cheer you on!